The Power of Partnership
Unleash it with FLO
MediaFLO USA provides an end-to-end service that opens new market opportunities to all members of the mobileTV value chain. Its superior technology and distribution system enable MediaFLO USA to manage a robust operation while providing a single point of contact for all service partners.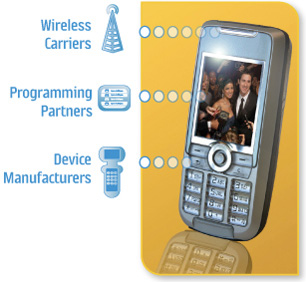 Wireless Carriers may increase ARPU and reduce churn through a highly differentiated offering that does not impact their existing 3G voice and data network.

Programming Partners broaden reach and extend brands through one of the fastest emerging new mobile media platforms.

Device Manufacturers bring the latest innovation to consumers by offering the capability to experience live mobile entertainment on their leading wireless handsets.

For more information on partner opportunities with MediaFLO USA, please complete this request form and we'll contact you, or you may directly.